Boutique on 57 is hosting a day of special treats on Thursday in New York. There's also a Prada bag give-away.
I just received the invite. It said I could share, do that's just what I'm doing.
UPDATE: The invite doesn't come across too clearly with the festive red print and itallics, so here's the info:
FREE PAMPERING, psychic reading, hair & scalp consultation, nutritious & aesthetic analysis, manicure, makeup application, massage, eye brow shaping, book signing, Holiday Designer Shopping Special, champagne, sweets and much more...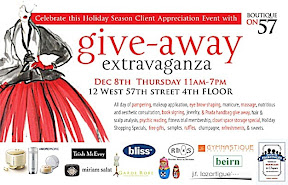 - Posted using BlogPress from my iPhone